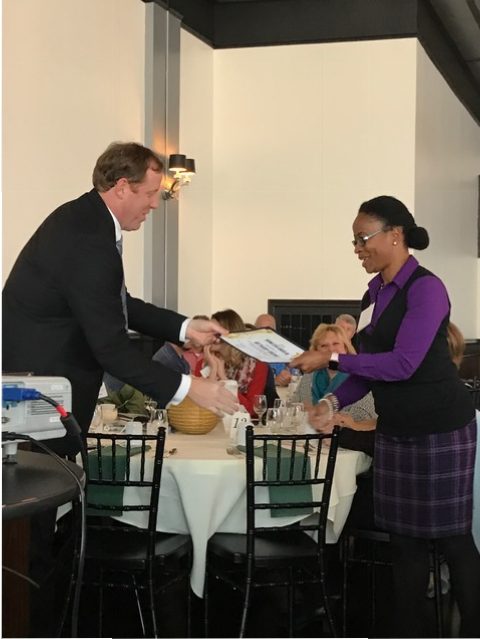 The Greater La Crosse Area Diversity Council was delighted to nominate Dr. Bethany Brent for the 7 Rivers Alliance Rising Star Award, and was very pleased to see Dr. Brent receive this award on November 17, and be honored by our community for her important work strengthening public education in the community in a variety of ways. Dr. Brent is a Senior Adviser in the School of Education at UW-La Crosse, and influences teachers in training in her work every day.
Brent has also worked with Antoiwana Williams, Director of Multicultural Student Services at UW-La Crosse, to develop a path-breaking program in the community called Grow Our Own Teacher Diversity. The program provides scholarships to community members, ages 22-50 who are seeking the opportunity to pursue four-year degrees and become certified teachers in the public schools. In La Crosse and Winona, community members of color, ages 25 and older, are more likely than their white counterparts to complete their formal education with an associate's degree rather than a four-year college degree. The Grow Our Own program creates opportunities for community members of color to make the jump in educational credentials and the opportunities that go with that.
One of the biggest opportunities will be to have a broader impact on children, especially children of color who are much less likely than white children to see a person of their race in a position of authority in public education in our area. Brent and Williams note that "Research shows that students of color who are taught by teachers of color increased students of color learning time in the classroom, improved students of color standardized test scores, increased students of color presence in advance-level course enrollment, and increased their college going rates." Currently though, only two percent of teachers in the school districts of La Crosse and Winona are people of color. The program is just beginning this semester, and is on track to expand and to positively influence all our students in the area public schools.
In just two years in La Crosse, Bethany Brent has begun this project while also helping organize the annual Martin Luther King, Jr. Celebration and serving on the board of the Pump House Regional Arts Center. She enriches our community in so many ways, and is truly a rising star.