Director for UW-La Crosse's Research and Resource Center for Campus Climate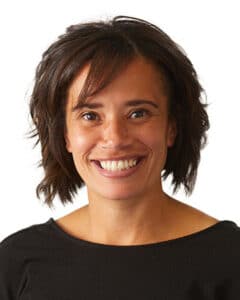 Amanda Florence Goodenough (she/her/hers) is a dedicated educator operating from a cultural humility framework to center and elevate historically marginalized voices, promote belongingness and mattering, disrupt structural inequities, and advance intersectional social and racial justice. Amanda has over 15 years of professional experience in equity, diversity, inclusion, and justice efforts within a higher education setting.
Currently, Amanda serves as the Director of Campus Climate at the University of Wisconsin-La Crosse (UWL), while also being a part-time doctoral candidate in UWL's Student Affairs Administration and Leadership program. On campus, in addition to facilitating workshops, programming, and assessment, Amanda has provided leadership for Awareness through Performance and the Hate Response Team for over a decade and has co-founded RISE UP (Racial & Intersecting Identity Symposium for Equitable University Progress) and the nationally-growing Hate/Bias Response Symposium. Amanda is also a consultant, speaker, and coach with Social Responsibility Speaks. Amanda's focus areas include campus climate/culture, cultural humility, hate/bias response, anti-blackness, racial justice, multiracialism, microaggressions, bystander intervention, student activism, power/privilege/oppression, and healing centered engagement.
Amanda resides in Wisconsin, where she attended the University of Wisconsin-Platteville for her Bachelor's degree in Communications, before heading to the University of Wisconsin-La Crosse to earn a Master's in College Student Development & Administration. In her personal life, Amanda and her partner enjoy raising their multiracial kiddos and helping them to make meaning of the world.
Presentation titles include:
Cultural Humility: Moving Beyond Cultural Competence to Advance Equity & Justice
The Macro Effect of Microaggressions
The Language of Inclusion
Sticks & Stones: The Manifestation of Hate & Bias
The Socialization of "What Are You?": Complexities Within the Multiracial Experience of Passing, Belonging and Otherness
In Pursuit of Necessary Trouble: Activism in the Academy
Combating Hate & Bias in the Workplace
Building Effective Hate/Bias Response Teams & Processes
Learn more at amandagoodenough.com.
Contact Amanda at: agoodenough@uwlax.edu or amandagoodenough@yahoo.com.