David J. Dennis, Sr. will present the following featured keynote presentation that will last 45 minutes, including the Q & A.
What does it mean to be an American?
This is not a question only for one individual American citizen. What it means to be an American requires a collective perspective. Our Founders placed E Pluribus Unum – out of many, one – [or, "out of many, one"?] on the nation's seal. The number of people who comprise the whole, as well as the differences among us, have grown dramatically in our 240 year history. Therefore, Civil Rights Activist David Dennis will ask us to reflect upon how we can still become an untied whole out of our great 21st century diversity.
This will be a free admission event open to the public and cosponsored by many community partners.
2018 Dr. Martin Luther King, Jr. Leadership Award Recipient –
Mr. Shaundel Spivey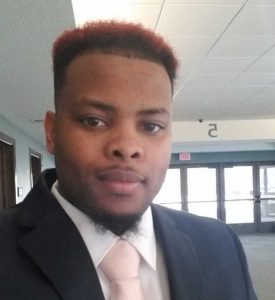 The 2019 Dr. Martin Luther King, Jr. Leadership Award Recipient is a young man who has had a profound impact on many people in the Greater La Crosse Community and beyond. The Dr. Martin Luther King, Jr. Leadership Award recipient is Mr. Shaundel Spivey, originally from Milwaukee, Wisconsin. As an undergraduate and graduate student at University of Wisconsin – La Crosse, Shaundel was not only committed to his education but also had a passion for creating social change for all students but especially those with marginalized identities. Shaundel was able to work across all groups and with faculty and staff to promote social justice. During his time at UWL he was known as a strong student leader and advisor in Black Student Unity, and was a founding member of Kings of NIA, an organization committed to the professional development of African American men. In summary, Shaundel served as a natural mentor providing an outstanding example of leadership and involvement for many students at UWL and youth in the La Crosse community.
Shaundel's commitment and passion for social justice also expanded to youth in the La Crosse community. His patience and willingness to bring out the best in young people are immeasurable. Shaundel worked tirelessly to provide a safe place and space for children to learn, grow and experience their culture. In his previous position as a Cultural Liaison for the La Crosse School District Shaundel created and coordinated the annual Black Youth Summit. This program provides middle and high school students a venue for Black and multi-racial youth to learn, understand, and experience African American history and culture while also providing a venue for their voices to be heard. The Black Youth Summit is in its third year and continues to be an event that Black youth in the community look forward to attending.
Working with Black and multi-racial youth inspired Shaundel to create an organization of Black community leaders called Black Leaders Acquiring Collective Knowledge (B.L.A.C.K.). In collaboration with the School District of La Crosse, B.L.A.C.K. raised over 70,000 dollars to sponsor a week-long trip for Black and multi-racial youth to travel to historically Black colleges universities, and visit cultural attractions in the Washington, D.C. area.
Other notable UWL and La Crosse community social justice experiences by Shaundel include;
Ghana Study Abroad Participant at UWL
Counselor and Senior Staff Leader for UWL's Academic Success Institute
Coordinator of UWL's Know Your Legal Rights Program
Sigma Tau Gamma Fraternity Member & Advisor at UWL
Conducted Culturally Responsive Approach Professional Trainings for School District of La Crosse Teachers & Administrators
City of La Crosse Human Rights Commission Member
Prodigy of Life Dance Ministry Founder
UWL's Commitment to Diversity Scholarship Award Recipient
The 7 Rivers Alliance's Rising Stars Under 40 Award Recipient
Martin Luther King, Jr. Holiday Community Celebration Planning Committee
Lynda Lowery Leadership Award Founder where the first high school recipient will be honored on January 21st 2019 at the MLK Holiday Celebration with a $500 scholarship presented by Associated Bank
Recently began a new position as the College Connections Manager at Western Technical College where he provides leadership and oversight for all admissions, registration, orientation, and K – 12 relations.
Shaundel is a person whose life has not been without difficulties. In 2014 Shaundel and several other students experienced an apartment fire that destroyed all of their belongings. In 2015 Shaundel experienced a life-threatening assault in Milwaukee and was injured during the attack. Through these events, Shaundel demonstrated a capacity for resilience, tenacity, and ability to move forward in a positive fashion. Shaundel has a special ability to ask the difficult questions, learn, teach, envision, take action, create, lead, collaborate, and coordinate to make this world a better place. It is for all of these reasons and more that this year's MLK Jr. Leadership Award Committee is proud to honor Shaundel Spivey with this prestigious award.
For interested individuals at UWL and throughout the La Crosse community, there will be two options to attend one of the planning meetings to learn about and discuss the process to attend the 20th Annual National White Privilege Conference in Cedar Rapids, Iowa scheduled for Thursday – Saturday, March 21st – 23rd 2019.  If organizations collaborate, the more going from an organization, the greater possibility for discounted rates.  Even if you and associates don't receive a meeting invite, please feel free to attend or send someone to one of two meetings indicated below.
Wednesday, December 12th 2019, 1 – 2pm in 2200 Centennial Hall located on the UW-La Crosse Campus
Thursday, December 13th 2019, 3 – 4pm in 3100 Centennial Hall located on the UW-La Crosse Campus
In addition, there are initial plans happening in the La Crosse Community to organize a community/regional book read using Waking Up White written by Debby Irving that will propel possibly hosting a White Privilege Symposium in La Crosse, most likely during the 2020 Fall Semester.  Also at these two meetings, there will be an update about these as well.