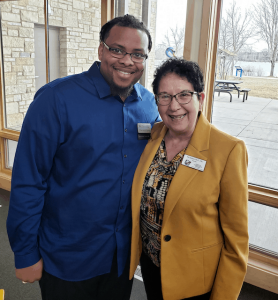 Our first event this year, "Creating a Culture of Inclusion in the Workplace," was a valuable networking and educational opportunity for our members, community leaders, and students in the La Crosse area. Dr. Patricia Markus and Shaundel Spivey gave a valuable and dynamic presentation on strategies to create a more welcoming and inclusive workplace, which sparked further conversations about our shared vision for an inclusive community where individuals feel welcome, have access to opportunities, and feel a sense of belonging.
La Crosse area companies and organizations also took part in a related forum held at Altra Federal Credit Union's headquarters' in Onalaska.
Is your organization or company working to create an inclusive workplace? Stay tuned! GLADC is planning three more events this year.
Embracing a Diverse Perspective
Dr. Markos, Director of the Institute for Professional Studies in Education at UW-La Crosse currently manages nine different graduate programs including Educational Leadership, and incorporates culturally responsive teaching strategies into each program. And Shaundel Spivey, College Connections Manager at Western Technical College, is the co-founder and president at Black Leaders Acquiring Collective Knowledge (BLACK).
Their engaging presentation and forum was based on their expertise and experiences, and kept attendees interested. Their involvement in helping to foster a more equitable and collective community was an inspiration to all of the participants. The audience truly embraced the topic of Creating a Culture of Inclusion in the Workplace. A few of their comments when brainstorming about next steps, were:
"Establishing a culture of inclusion is a must-do in every successful business."
"Education is key."
"We want to practice and embrace a diverse perspective."
Local companies have great strategy ideas. Like, *Innovation Board.* Would like to know more? Inquire with the Greater La Crosse Area Diversity Council (at no charge) on how to create one for your business. GLADC will be happy to connect you with an incredible diversity team that is implementing this tool in their inclusivity planning.
Thank you to our new member WisCorps Inc. for accommodating a high number of participants at Myrick Park Center. And thank you to Altra Federal Credit Union for co-hosting our Forum Sessions this June.