More than 80 people attended GLADC's 7th Annual Conference on November 2.
At the end of a day of rich presentations, small groups gathered to collect their takeaways and begin formulating their own "proactive strategies," in keeping with the conference theme. Here are some of the goals participants brought back to their workplaces and communities: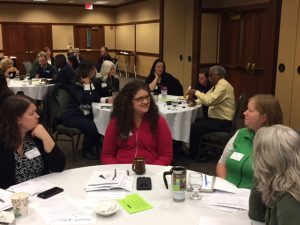 Create teams and procedures to provide for reporting and proactive responses to hate-bias incidents
Work on increasing the safety of groups that have been targeted by hostile language and actions
Review workplace policies regarding inclusion
Increase intentionality around mentoring, formal and informal
Take the Harvard Implicit Bias test and share
Reduce gender-binary language; create opportunities for inclusive language on signs, in bathroom availability, and in educational materials
Plan for regular dialogue about diversity
Create a daily/weekly space for staff to talk about justice issues
Work on ourselves: continue education and expansion of social networks in our personal lives.
As one of our presenters said, don't just be an ally or advocate. Be an accomplice! Thanks to all our sponsors of this event, and to those who participated. Watch for updates of 2018 GLADC programs, where we will continue the learning.