We live in times that are changing rapidly. This rate of change, and the fact that La Crosse is home to many diverse people, creates the imperative for intercultural competencies in the workplace. Join us for a presentation on intercultural communication by Ayesha Patniak, of the UWL Communication Studies Department.
The presentation will explore questions such as:
What is culture?
What intercultural communication experiences have we had – both online and face-to-face?
How have we responded… with amusement, curiosity, interest, hostility, anger fear?
Ms. Patniak will help us understand how we often use our own cultural frameworks to make sense of the world, and how these assumptions can lead to misunderstanding.
The study of Intercultural communication is both an art and a science. We can develop greater intercultural competencies by becoming self-aware, sensitive and flexible to change. This heightened sensibility is critical in reducing conflict, fostering a more positive workplace environment, and leading ultimately to higher employee productivity, satisfaction and retention.
About Ayesha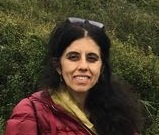 Ayesha Patniak teaches in the Communication Studies department at UW-L. A native of India, she has lived in the United States for the past 25 years. She did my Masters in CommunicationArts from the University of Cincinnati, and has taught at UW-L since 1999. Ayesha's passion is international education; she has taken students to India and Ireland on study abroad trips and is currently planning a faculty led trip to India in 2019. Ayesha says, "As a transplant, with one foot in each culture, I remain in love with my country of adoption, but yearn and return frequently to my country of origin."